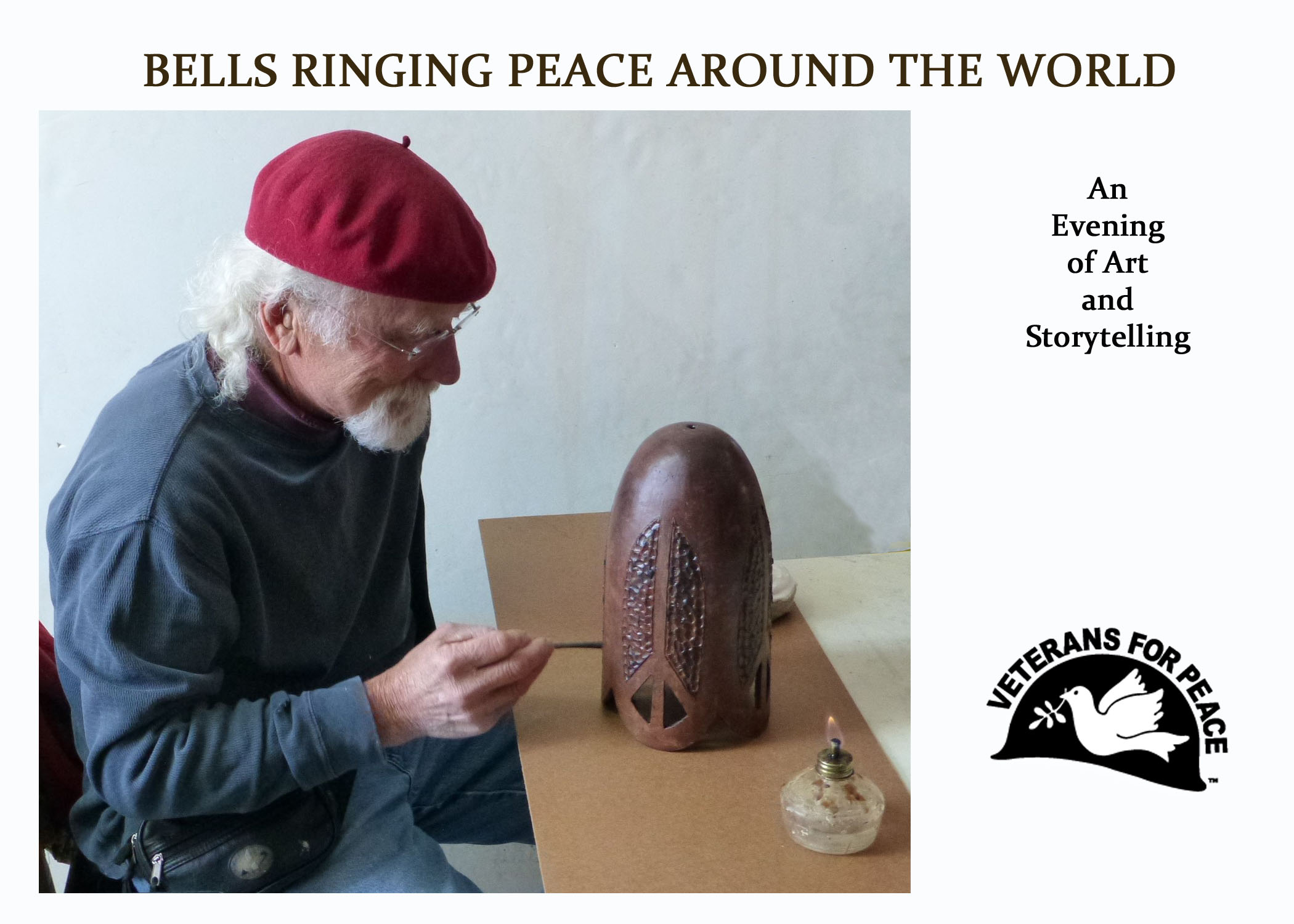 On World Storytelling Day, March 20, at 6 p.m., veterans, those who care about veterans, and peace and justice activists, will gather in Guild Hall at Plymouth Congregational Church in Minneapolis. The event, sponsored by Veterans for Peace Chapter 27 and the Plymouth Church Global Connections Committee, culminates several months of artistic activity, with veterans designing and casting their own bells in the spirit of the original 1918 Armistice. For over 25 years Veterans for Peace has celebrated November 11 with bells ringing 11 times at the 11th hour of the 11th day of the 11th month, when the Armistice ending World War I was signed. It was a time when the world came together for a number of years to say "This war was so horrendous we must never do it again". It was a time when the President of the United States could make a Memorial Day speech, saying, "We are gathered here to honor those who've given their lives in service, and there is no greater honor we could offer than to do everything possible to keep future wars from occurring."
The March 20 event, and the veterans' work with sculptor Gita Ghei, is made possible by the voters of Minnesota through a grant from the Minnesota State Arts Board, thanks to a legislative appropriation from the arts and cultural heritage fund. Historically, many bells have been melted down during wartime to make weapons. This program will include a bell made from an artillery shell, as well as music of bells "ringing out danger, warning, and love between our brothers and our sisters all over this world". Members of the Plymouth Bell Choir will perform, and there will be stories from veterans:
Chante Wolf says, "I have no activism in my background. I wanted to be a photographer, but my dad persuaded me, a woman, to join the Air Force and serve during the first Gulf War. After 9/11 I jumped in because I saw my military brothers and sisters being used for a time and then tossed aside. That's when I realized I needed to heal myself, and my avenue was art, getting back to photography, and doing the combat paper project thru Veterans in the Arts. I'm working on my second book, and now I'm making this bell to ring my brothers and sisters home from combat."
Stephen Gates says, "After spending many years in denial about what my Vietnam military experience really meant, I landed on the desire to do things to create peace on earth. I'm a visual artist, but I've always wanted to do some casting, and here that is possible. I get to mold visual art into my bell and make sound ripple into the ever-growing pond of peace.
To RSVP for the event, which includes a light food and resources reception at 6 and program at 7, please contact Larry Johnson at 612-747-3904 or larryjvfp@gmail.com.
Johnson was an army medic during Vietnam and is immediate past President of Veterans for Peace. He serves on the Plymouth Global Connections Committee, and in 2003, as the U.S. was preparing to invade Iraq, Johnson worked with storytellers around the world to create the original World Storytelling Day. On or around March 20 each year there are events in about 25 countries, none as overtly pro-peace as this one, but all in the original spirit of "If I can hear your story, it's harder for me to hate you".