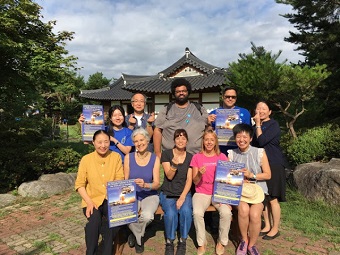 Will Griffin, VFP Board Member is currently on a trip to Korea as part of a peace delegation and writes some thoughts below. This was originally published on Bruce Gagnon's blog."At our meeting for a "Strategic Discussion on US-Korea antiwar movement", we exchanged thoughts on how we can work together.
I mentioned that our Stop THAAD in Korea task force will be planning to protest a weapons expo in DC this October called AUSA. Lockheed Martin will be displaying the THAAD missile system there. In return, a South Korean member of People's Solidarity for Participatory Democracy said they too are planning to protest a weapons expo here in Seoul. She said it was the largest weapons expo in the region and held every year. We plan to communicate with each, share information, and plan ahead.
I also feel our delegates are becoming more invested in Korean struggles. Jill Stein already understands the devastating consequences that are happening here. Medea Benjamin is bringing a lot of knowledge from her experience with Women Cross the DMZ in 2015. Reece Chenault is the main event because so many labor organizers here in Korea have heard a lot about US Labor Against the War. And I'm meeting many activists that I met on previous delegations, strengthening our relationships.
Our delegation met with Representative Jae Kwon Shim at South Korea's National Assembly, who is chairman of the foreign affairs and unification committee to talk about our opposition to deployment of THAAD anti-missile system in South Korea. He was surprisingly rational. To sum up, he said we need to change public opinion and force him and the government to remove THAAD. Also, he mentioned that we need to work together to create an environment in which we don't need THAAD. We plan to do that. "
To see News Coverage of their trip:
US peace activists arrive in Korea calling for withdrawal of THAAD deployment
Jill Stein leads US activists in protesting THAAD in South Korea
US activists stress need to build anti-THAAD solidarity with S.Koreans
Spotlight: U.S. activists stress need to build anti-THAAD solidarity with S.Koreans
Korean-American anti-THAAD activist barred from entering South Korea