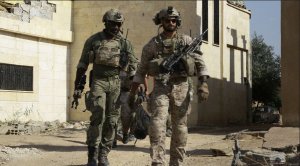 BEIRUT, LEBANON (12:00 P.M.) – According to Syrian Democratic Forces (SDF) spokesman Talal Silo, the strategic interests of the United States in Syria dictate that its forces will continue to occupy the northern regions of the country, in collusion with Kurdish separatist wishes, for many decades to come.
According to the SDF representative, Washington will continue to develop its strategic policies in SDF-occupied northern Syria via various military and economic cooperation initiatives with Kurdish-dominated political structures that have been established under the Democratic Union Party (PYD) long after ISIS in gone.
In the past, Silo has openly admitted that the SDF is a tool of American foreign policy in Syria and that the alliance group is forbidden by its US handlers from cooperating with either the Damascus government or Russia.
The announcement by Silo comes around the same time British Army representative for Operation Inherent Resolve Major General Rupert Jones said that the US-led coalition (supposedly against ISIS) would not allow "Syrian regime forces" to move north of the Euphrates River (into SDF-occupied regions). In doing so, Jones essential confirmed suspicions long-expressed by pro-Damascus analysts that Western powers (led by US) pursue a second unspoken policy in Syria aimed at preventing government forces from restoring sovereignty in the country's northern regions.